Yield Defender Unmanned Aerial System Components
• High Endurance (HE) Unmanned Aerial Vehicle (UAV)
• Software for planning mission
• Near Infrared (NIR) sensor
• 1 year or 6 month license to CropVue Imaging processing software
• 3 rechargeable lithium polymer batteries
• Battery charger with DC 12v adapter for trucks, farm vehicles
• Transmitter, telemetry downlink and necessary cables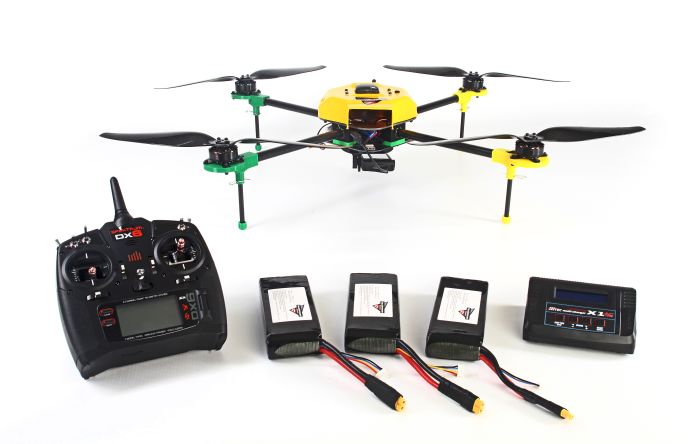 High Endurance Quad-Rotor UAV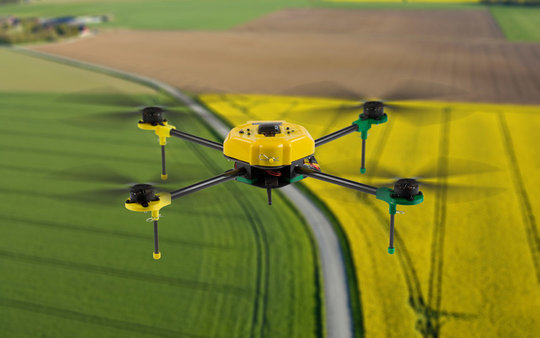 The HE Quad allows you to complete a variety of missions without any pilot experience. Its large motors powering the 16-inch carbon fiber propellers contribute to an industry-leading flight time on a single battery charge. It can cover up to 300 acres in a mission. It is fully autonomous and has precision flight capabilities to assure consistent, contiguous data capture. Our quad is capable of handling tasks for farmers, hunters, miners and much more.
Avionics
---
• Battery: LiPo 4S 8000mAh
• GPS with Digital Compass
• Flight Computer: 168 MHz Cortex, M4F CPU
• SD Card and USB Adapter
• Gyroscope, GPS, Barometer & Accelerometer / Magnetometer Onboard Sensors
• Telemetry - 915MHz
Motor
---
• RPM/v: 380 Kv
• 16x5.5 Carbon Fiber Propellers
• 25 Amp Brushless Motor Speed Controller
• Throttle Range Setting
• Brake Battery type
• Cutoff mode, Start mode, and Timing
Controller
---
• Full range, 2.4Ghz 7 Channels
• Proven DSMX technology
• LCD display
Airframe
---
• Robust, Multi-Tier Platform
• Carbon Fiber Arms / Landing Gear
• Fully Replaceable Parts with Quick Response to Custom Requests
NIR(NDVI) Sensor / Camera
(Included with HE Quad)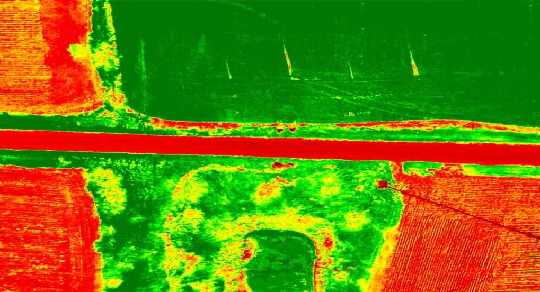 Our sensor captures near infrared (NIR) and blue light videos/photos in the same image, but different color channels. The Camera which contains the sensing software has normalized difference vegetation index (NDVI) filter applied, and the photos from the mission can then be post processed in order to better determine the level of photosynthesis.
Inclusions
---
• Trigger Cable
• Battery and Charger
• Built-in GPS
• Time Interval & GPS Trigger CHDK
Sensing
---
• Real Time Crop Health Feedback
• Increased Yield Results
• Daytime NIR Usage
• Developed Through CropVue Imaging
Mission Planner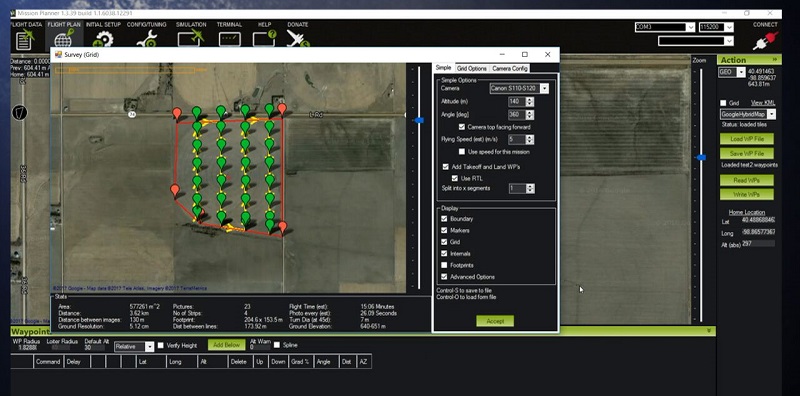 The Yield Defender flight plan can be programmed from a laptop or PC with an easy-to-use Mission Planner that generates autonomous flight plans using satellite images. Operator can program aircraft safety behavior, tune configuration parameters, define autonomous missions, and perform post-mission analysis. The mission is uploaded via hardwire, USB connection, or wirelessly via telemetry into the aircraft's onboard flight computer.
Interface
---
• Real Time GPS Coordinates & Attitude Values
• Help Guides and Step by Step Training
• Simple Point-and-click Flight Planning
• Full UAV Simulation
Configuration
---
• Firmware for Various Vehicles
• Full Parameter List and Customizations
• Download & Analyze Mission Logs
• Custom Telemetry Options
CropVue Image Processing Software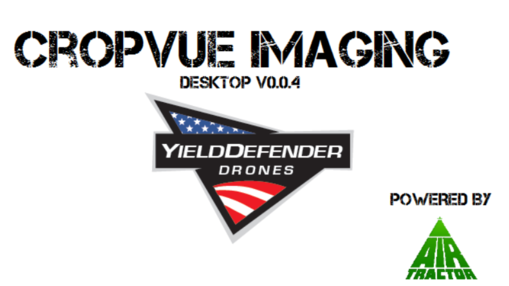 CropVue 'places' images, rather than stitches, which results in rapid image processing. This program allows for field management so the user may collaborate and share the information as desired. CropVue licensing packages come in subscriptions of six and twelve months.
After you have purchased your subscription to CropVue, you can navigate over to the
support page
for the software download. Once inside, you can enter the key given to you upon subscription purchase in order to gain full access.
Customization
---
• Manual Manipulation for Higher Accuracy
• Shape File Creation
• Prescription Importing
Processing
---
• No Internet Connection Required
• Low Resolution Data Files
• Quick Data Handling